TRC News
FOR IMMEDIATE RELEASE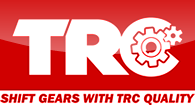 TRC Expands Distribution Centers Nationwide
CINNAMINSON, NJ (December 8, 2015) TRC, a leading "wholesale only" supplier of remanufactured drive train components, is excited to announce a major expansion of its distribution footprint. TRC has added four strategically located distribution centers to strengthen its nationwide coverage. The new facilities are in St. Paul, MN; Dallas, TX; Los Angeles, CA, and Seattle, WA.

Combined with the existing 24 distribution facilities, TRC is now a nationwide supplier of a complete all makes offering of remanufactured transmissions and differentials. TRC is an Eaton Authorized rebuilder, which is part of the Roadranger program, and an Authorized Allison Rebuilder. TRC also offers a complete line of Off Highway pumps, hydraulics, differentials, and transmissions for a wide range of manufacturers.

"We are very excited to announce a major expansion of our distribution capabilities" said Randy Aylor, Director of Sales. "Our "wholesale only" market approach has generated tremendous growth in our business, and with the continued consolidation in all facets of distribution it is a natural progression to service our customers in all of their locations and not just be a regional supplier. Combining our Eaton and Allison relationships with our full range of drive train products makes TRC a natural choice for our business partners.
---
About TRC
TRC, (www.trcreman.com) founded in 1979, is a leading "wholesale only" remanufacturer of transmissions, differentials, hydraulic pumps and other specialized components for light to heavy duty truck markets. It has developed an unparalleled reputation for providing important truck components on a same day or next day basis to minimize customer downtime.
---
Or Contact:
Christy Staszewski
2501 Route 73 South, Cinnaminson NJ 08077
(856) 665-4445
For More Information
Visit our website at trcreman.com
or email contact@trcreman.com
For Orders, Tech Support, Core Processing/Shipment and Warranty Administration:
Phone: 855.587.2736
Fax: 856.661.0092