TRC News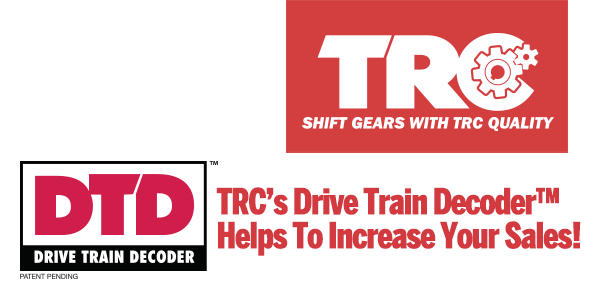 If You Haven't Used TRC's Drive Train Decoder™
You're Creating More Work For Yourself!
Don't let this tool slip by you. We are getting rave reviews from our users. The Drive Train Decoder™ is tremendously cutting down the time it normally takes to the do the research to get the part you need; leaving you more time to grow your drive train sales.

The Drive Train Decoder™ launched in January 2016 and we are continuously adding information to ensure we cover the units that make up our industry.
Over 12, 000 OE and Manufacturer's Assembly #'s, over 2,000 Casting and Component Part #'s; Leading to more than 6,000 finished product Part #'s.

Parameter descriptions and pictures are being refined for easy to follow directions on choosing the correction option. Some examples include:


A differential ratio calculator that is interactive; selecting the ratio result will auto populate the specification and narrow your results.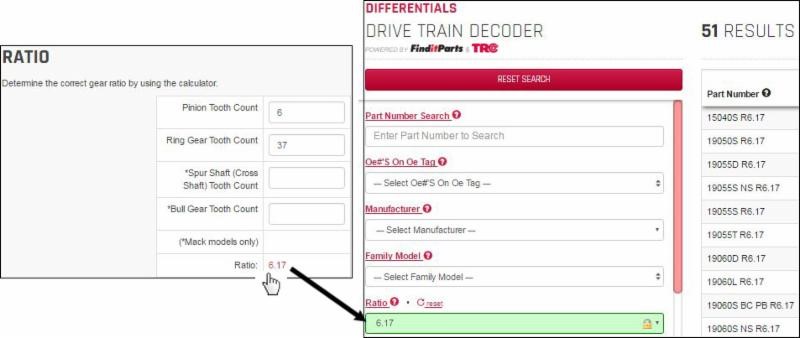 Descriptive specification details to educate and help easily identify the type of spline you have.

The Drive Train Decoder™ is a tool that can endlessly be enhanced; many more additions and upgrades to come.
To schedule a personal demonstration visit:
www.trcreman.com/drivetraindecoder.php
or
Email: contact@trcreman.com
For More Information
Visit our website at trcreman.com
or email contact@trcreman.com
For Orders, Tech Support, Core Processing/Shipment and Warranty Administration:
Phone: 855.587.2736
Fax: 856.661.0092