TRC News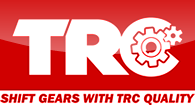 Check out the latest changes and improvements
to the TRC Program
CINNAMINSON, NJ (June 1, 2016) We are confident that these upgrades will increase your drive train revenue.
National Availability

- TRC has become a true national company with the addition of distribution centers in Dallas, Los Angeles, Seattle, Kansas City and St. Paul.


Drive Train Decoder™ (DTD)

- This innovative tool makes your sales team Drive Train Experts, and prepares them to outperform the competition by reducing time and effort in decoding the correct transmission or differential, the first time. Click HERE to find out how to schedule your personal demonstration.


Pricing

- We have established aggressive pricing, enabling you to be competitive in your market. This will allow you to gain additional sales while offering a premium product.


Core Return

- Features a computer generated, bar coded, Mylar core tag. Simply attach the tag to the core with the zip tie provided. Once the core is received, it will be inspected, scanned, and the credit will be issued. There will be no delays or errors in getting core credits.


Warranty

- This "Best in Industry" warranty policy features:


Replacement Units

- If a replacement unit is required, one will be shipped without a finalized invoice. You will have 14 days to return the warranty unit.


Labor

- We will perform our evaluation within 10 days of receipt of the unit. Upon warranty approval, the replacement billing will be negated, and we will automatically issue a labor credit per our flat rate chart. Click HERE for a copy of this chart.


Non-Warrantable Unit

- If the cause of the claim is deemed to be "customer's fault", TRC will only invoice 50% of the original price as a form of customer accommodation, as long as the claim is the first claim against the original sale.
We have a team of dedicated

WHOLESALE ONLY,

Regional Sales Managers who are ready to consult with you and your team regarding drive train sales.

If you have any questions or inquiries please reach out to us with your contact specifics at

contact@trcreman.com

, and your Regional Sales Manager will be in touch to help you grow your business.
For More Information
Visit our website at trcreman.com
or email contact@trcreman.com
For Orders, Tech Support, Core Processing/Shipment and Warranty Administration:
Phone: 855.587.2736
Fax: 856.661.0092