TRC News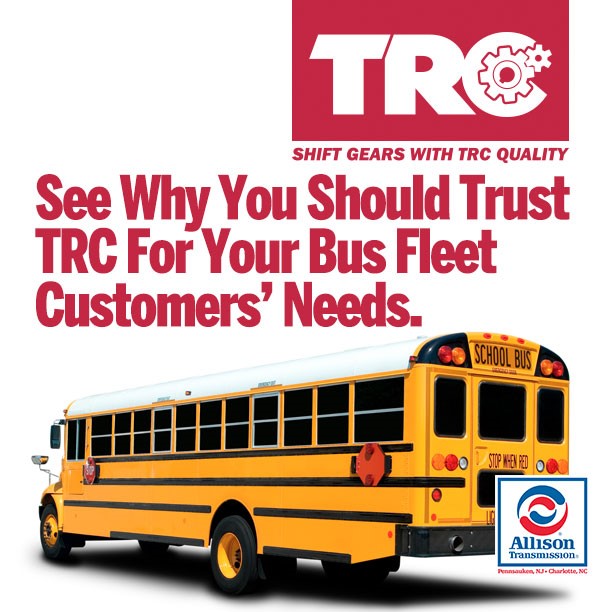 For More Information
Greetings!
Genuine remanufactured Allison transmissions from TRC deliver the best combination of performance, reliability, durability, fuel efficiency and driveline protection for school bus fleets.
| | |
| --- | --- |
| Located in Pennsauken, NJ and Charlotte, NC as an Allison Authorized Overhaul Dealer, recognized by Allison as having met their standards of competence, training, tooling, equipment and experience. | If your supplier is not an Allison Authorized Overhaul Dealer, what standard do they hold to and what training and equipment do they have? |
| | |
| --- | --- |
| Every transmission is 100% disassembled | Missing a worn spline or leaving a small fragment inside a transmission will cause premature failure. Our standard and Allison's standard is 100% disassembly. |
We use only genuine Allison parts. Solenoids, seals, filters, clutch plates and bearings are made to last and maintain their performance throughout the life of the unit.

Used parts such as clutch plates that are already partially worn out, or worse yet, after market parts from random vendors will not go the distance. Your vehicle will be down again in short order. It might be covered under warranty, but the same substandard parts will
be used in the warranty repair.
| | |
| --- | --- |
| All AT-545 transmissions are suppliedwith a new, genuine Allison torque converter. | Allison does not offer parts or repair specs for AT-545 converters due to the high failure incidents. All reman AT-545 converters are aftermarket and substandard. |
| | |
| --- | --- |
| We use all new clutch plates, solenoids and pressure switches on every unit. | Allison's standard is to replace electronic parts at every overhaul. |
| | |
| --- | --- |
| Our units are remanufactured in an ISO-9001-2008 Certified facility and all units are dynotested. | In many shops, each technician decides how he wants to build. Our consistent processes are the same as Allison's. |
Visit our website at trcreman.com
or email contact@trcreman.com
For Orders, Tech Support, Core Processing/Shipment and Warranty Administration:
Phone: 855.587.2736
Fax: 856.661.0092