TRC News
FOR IMMEDIATE RELEASE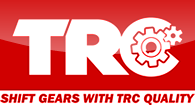 TRC Expands Reach With Addition
Of Two Industry Veterans
CINNAMINSON, NJ (March 15, 2016) TRC is pleased to announce the addition of two strong leaders to our sales team:

Ed McLaughlin has recently joined the TRC team and will service the Northeast region for our "wholesale only" TRC program. Based out of the Pittsburgh area, Ed brings tremendous knowledge to our team. Most recently, Ed led a dedicated team of people to serve the Ford dealer body for their Blue Diamond parts needs. His customer service first mentality is what ensured us that he was a great addition to the team.

Phil Rab has also joined our sales team. Based near Springfield, MO, Phil will be charged with expanding our reach westward as we fully capitalize on our National footprint. Having spent the last 16 years at Navistar, Phil brings extraordinary knowledge of the OE Dealer business model to the team. His most recent duties were serving key national fleets. Previous to that, Phil managed the parts sales growth initiatives for numerous large Navistar dealers.

"The addition of these two individuals positions TRC uniquely to grow the business." stated Dave Olsen, CEO of TRC, "I look forward to learning from both of them and combining their unique skills with the entire TRC "customer first" mentality to drive results that will make us all proud."

As previously announced, TRC has recently opened facilities in St Paul, MN; Dallas, TX; Los Angeles, CA and Seattle, WA. These 4 new stocking locations, coupled with the pre-existing 24 distribution facilities, make the TRC program the most widely available national program for remanufactured transmissions and differentials in North America.
---
About TRC
TRC, (www.trcreman.com) founded in 1979, is a leading "wholesale only" remanufacturer of transmissions, differentials, hydraulic pumps and other specialized components for light to heavy duty truck markets. It has developed an unparalleled reputation for providing important truck components on a same day or next day basis to minimize customer downtime.
---
Contact:
Christy Staszewski
2501 Route 73 South, Cinnaminson NJ 08077
(856) 665-4445
For More Information
Visit our website at trcreman.com
or email contact@trcreman.com
For Orders, Tech Support, Core Processing/Shipment and Warranty Administration:
Phone: 855.587.2736
Fax: 856.661.0092